A New Year's Workout for your Business
Establishing a few New Year's business resolutions may be just the ticket to jumpstarting your success in 2016.
With the New Year upon us and your first week back in the hot seat over, you have probably made a New Year's resolution to drink less, read more, eat more healthily or get fit and lose weight! While most resolutions this time of year revolve around these sort of things like hitting the gym more often, they can also be made for improving your business.
Why not put your Business in the Gym?
Establishing a few New Year's business resolutions may be just the ticket to jumpstarting your success in 2016. Why not take a few minutes to write down some goals that you want to achieve this coming year? Need some help? Here are some that are definitely worth considering that can help you kick off the year in a positive and productive way.
6 New Year Resolutions to Grow Your Business
#1 – I promise to plan my work and work my plan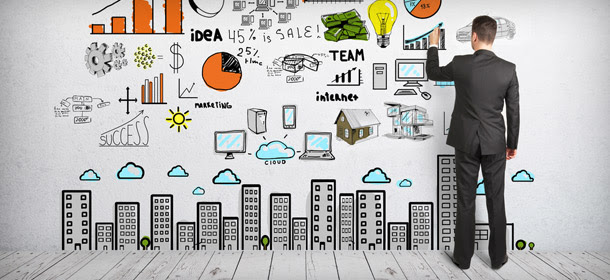 Business owners often are driving themselves at top speed so much of the time, that there is very little focus and time given to developing and implementing an actual plan of action. So if this sounds like you, don't feel too guilty about it, it just means that you need to carve out a little more time to reflect on where you've been and where you want to go. And yes, this does means a business plan.
You probably have one you created when you started the business but it is now residing in a drawer or filing cabinet somewhere. Now is a good time to pull it out and review it. You will have heard it before but remember that a business plan should be a dynamic document that you continue to update, not a one-time exercise when you launched your business. If you haven't got a plan at all, now is as good a time as any to create one! Having an updated business plan to hand and reviewing it on a regular basis is akin to having a roadmap to guide you to where you want to go. Without one, you're far more likely to deviate off course and not get you to your desired destination.
#2– I promise to take care of myself
Have you been accused of burning the candle at both ends? This is certainly not uncommon for entrepreneurs who typically wear many hats when it comes to growing their businesses. Although it's commendable and necessary to be busy, you also need to balance this with time away from work.
Make sure you make time to eat, exercise, family, friends, community activities, and, most importantly, rest. You will be much happier (so will your family), and more productive if you have time for yourself.
#3 – I promise to rid my Business of 'bad' customers
These are customers who suck up time and project negativity. Not surprisingly, they're often the same individuals who pay late or expect "extras" to keep them happy. As a business owner you can pick and choose who you work with. If someone is taking up an inordinate amount of your time and it's not beneficial for you and your business, it might be time to part ways.
#4 – I promise to outsource
 You probably went into business because you have a marketable skill or have the ability to sell products that you have genuine interest in. You're an expert in your field. But, you may not be an expert in everything else a business needs like bookkeeping, taxes, graphic design etc. Your business success depends on you doing what you do best. It may be time outsource to others, it may not be the best use of your time and you can stay focused on what brings in the money.
#5 – I promise to talk to one new prospect a day
Healthy businesses with long-term growth potential continuously add new customers. Don't become complacent if you have a good customer base already. Even reliable customers can experience problems and challenges that could effectively impact your own business. You always need to market and have a steady stream of new revenue coming in.
Promise yourself you will reach out at least once a day to a potential new customer. This means that over the course of the year, you will have made contact with hundreds of prospects. They may not become customers of course, but some will.
#6 – I promise to give back
By helping others it can help you in your business and personal life. Start off the year by committing to giving back, it can be incredibly positive and rewarding. Consider opportunities where you can offer your business's services or products. Undoubtedly, you will feel good about helping out, it may expose your business to new audiences and enable you to meet others, who like you, are dedicated to doing good. It can put a positive spin on your business that will be reflected in everything you do.
My own first 'give back' offering to you is here! Click here to download my free Planning Tool for your business, you will see it is easy to use and amazing. It will help you to grow your business so don't miss downloading it and get started now.
So…..
Are you ready to make 2016 your best year ever? Fantastic news! With a few resolutions in place and the commitment required to carry them out, you'll be well-positioned to achieve great things this year, how exciting is that!
Happy New Year
Andrew Cussons
Share to
Back to the top